Abbey Bike Tools H.A.G.
4:03 pm Cycling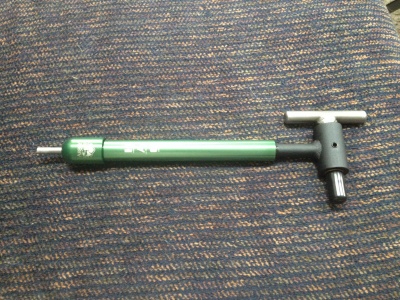 I put off buying a hangar alignment tool for some time. I guess I was convinced that I could eyeball the straightness of the derailleur without a tool most of the time. But my Opera seemed out of whack and was dropping the chain on the inside once in a while and I figured the time had come to make the investment in a proper tool for the job.
My first thought was to purchase the Park Tool DAG-2 which seemed reasonably priced. I've found most of the Park tools I own to be adequate for the task. But in searching the Internet for reviews I found there were other choices that might be better. You can research on your own if you wish but I finally settled on Abbey Bike Tools H.A.G. (Hangar Alignment Gauge).
The tool was considerably more than the Park tool but I appreciate quality tools and this one is no exception. It came in a plain cardboard box so it assumes you know how to use it. For a bike mechanic it's pretty simple to figure out.
The tool itself is pretty compact. It telescopes out so that you can use it on about any size frame and wheel. Even when the tool is completely extended there is very little play. The inner piece of cold rolled steel, while not honed like a hydraulic cylinder, has been turned to provide a fairly tight fit inside the outer aluminum tube.
On the hangar attachment end there is a piece of tubing with brass bushings to hold things tight. The handle is also cold rolled steel and is tig welded on. A set screw holds the handle piece in place.
The other end of the tool has an aluminum cap which screws on. The feeler gauge stows in the end of the tool nicely and is removed and inserted horizontally through the partially unscrewed end cap while in use. Tightening the end cap holds the feeler in position as you rotate the tool around the circumference of the wheel during the measurement phase.
I liked that the tool was very sturdy. It doesn't take much pressure to make corrections in the alignment, just a little hand pressure did the trick in every case. The whole job took about 20 minutes including removing and reinstalling the derailleur and making sure the shifting was okay afterwards.
I would recommend the Abbey Bike Tools H.A.G. for any serious bike mechanic. The quality of the tool is impressive. I'm sure it will eventually be an Old H.A.G.
No feedback yet