Palak Paneer
12:16 am Food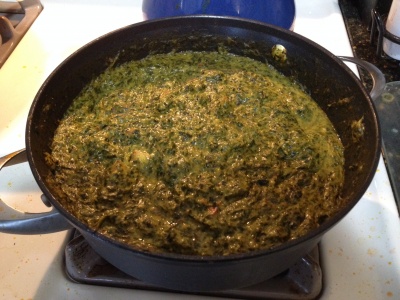 Today I made Palak Paneer. The recipe was much different than the last palak dish I made. This recipe did not use any onion or garlic. The main spices were cumin seed, turmeric and coriander.
It's not the healthiest dish, the paneer cheese is made from milk curd. There is also heavy cream used to make it smooth. It is very tasty though.
The recipe came from Manjula's Kitchen. I followed the recipe very closely except that I made a triple batch. Now I have enough to eat tomorrow and some to put in the freezer too.
I made the paneer a few days ago and put it in the fridge. It was nice and solid and turned out great. I used chopped frozen spinach which was fine. Fresh spinach would have been a little better maybe but I'm not sure you could really tell the difference.
No feedback yet