Besan Puda
2:43 pm Food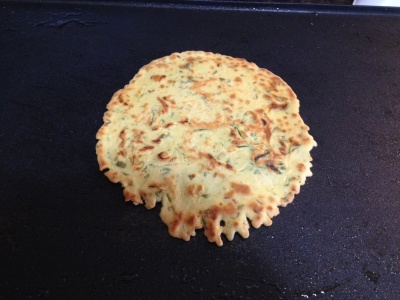 This is a vegan dish that is gluten free. The flour is from lentils and rice rather than traditional grains. It's pretty healthy because it also has zucchini in it and some spices.
These cook much like pancakes but they don't rise at all. I set the temperature on my griddle to 400F. They take longer to cook than pancakes and you should flip them a few times to get them golden brown on both sides. I found that they cooked best with a little oil on the grill to help the heat conduct.
I followed the recipe on Manjula's Kitchen almost exactly. The only thing that needed a little change was that the batter seemed too thick. It was sticking to the spoon when I tried to spread it on the griddle. I added just a touch more water and it worked much better. These pudas smell so good it filled the whole house with the odor of pancakes cooking.
I was hoping to make dosas with these and fill them with a potato stuffing. But they came out fairly brittle and didn't fold easily with the zucchini shreds in there. I could probably have put the filling between two pudas instead instead of trying to fold them. I noticed that Manjula had hers folded, maybe the ones with the thinner batter would have been okay for dosas.
A traditional accompaniment to these would be a sambar, alas I didn't have any toor dal so didn't make any this time. I guess it's back to Patel Market to pick some up.
No feedback yet