Sambar
11:08 pm Food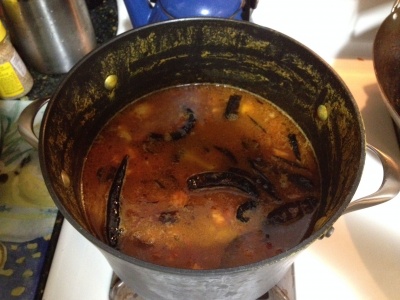 Tonight I made Sambar, the traditional spicy lentil soup. Too bad I didn't have it earlier to go wuth the dosas. I used Manjula Jain's recipe.
The preparation was a little extra work because I needed tamarind pulp which takes some effort to make. You have to soak the dried tamarind in warm water and then mash it up. There are seeds and coarse fibers in the stuff so you have to work it with your fingers and then pass the whole mess through a sieve to get the pulp. Other than that it wasn't too hard but took a while overall to get the whole thing done.
I didn't have a pressure cooker so I just cooked the tor dal on the stove normally. That took much longer than it would have in a pressure cooker. It turned out fine though.
There are many different spices and flavors in this soup. It has lots of chilies in it which you can see from the picture. There are also curry leaves which have a sort of citrus flavor. There are methi seeds, mustard seeds, cumin, and sambar powder (not sure what all is in that stuff).
The recipe goes together in two parts. The dal cooks in a big pot with some turmeric and salt. The spices are prepared separately and then added in. I used a wok to cook the spices and vegetables. The recipe called for vegetables like carrots, zucchini, radish and green beans. I decided to just throw a bag of frozen california vegetables in instead. So I had cauliflower and carrots and a little broccoli along with the tomatoes that the recipe calls for. I think you could put whatever you want in there really.
The spices are cooked in a little oil and then the vegetables are added and simmered. The wok worked great for that. Once the veggies are tender I added the spices into the cooked dal and simmered the whole thing for another 10 minutes or so. It's really delicious and very healthy. I had a big bowl and I'm going back for seconds.
I quadrupled the recipe so I have lots of soup to eat over the next few days and some to freeze for later too.
No feedback yet