Chilkewali Moong Dal
1:13 pm Food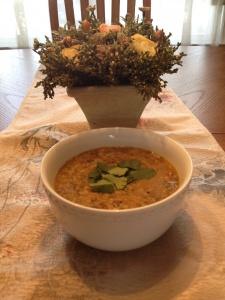 Moong Dal (from the moong or mung bean) has a high protein to carbohydrate ratio. I used the split moong with the skin on which is a little chewier and probably healthier. This really is a heart warming food for a cold day. This is a Northern Indian recipe.
The recipe has a bunch of ingredients but the method isn't very hard at all. It is very close to the Chilkewali Moong Dal Recipe on spiceupthecurry.com but of course I scaled it up a bit to make extra. The recipe as published said it was medium spicy but I think it is pretty mild. I might have put a few chopped thai peppers in it but then my wife wouldn't touch it at all.

Here's what I did:
 
1 cup split moong dal with skin
3 cups of water plus a little more as needed/desired
3 small tomatoes, chopped
1-1/2 teaspoons grated ginger1-1/2 teaspoons garlic, chopped very fine.
1/2 teaspoon turmeric powder (haldi)
1-1/2 teaspoons coriander powder
3/4 teaspoon salt (to taste)
3 tablespoons canola oil
3/4 teaspoon mustard seed
3/4 teaspoon cumin seed
1-1/2 teaspoons red chili powder
1 teaspoon garam masala
few sprigs of cilantro (coriander) for garnish

Wash the moong dal thoroughly in a colander. Put the dal in the pressure cooker with 3 cups of water. Bring up to pressure and cook for 3 minutes more, turn off heat and let it cool down. While it is cooling, make the tadka.
For the tadka use a saucepan or a wok. Add the oil and heat until hot and a cumin seed dropped in cracks. Add the cumin seeds and the mustard seeds and cook til they crack (30 seconds maybe). Then add the grated ginger and garlic and cook for a few seconds. Add the tomatoes. Cook until they are soft (few minutes). Turn the heat off and mix in the red chili powder and the garam masala. Stir well to mix them in.
Remove the lid from the pressure cooker and turn the heat to simmer. Add the turmeric and coriander powder and stir them in. When bubbling, add the tadka. Turn the heat way down and stir and simmer for a minute then remove heat.
Serve garnished with fresh cilantro leaves.
 
No feedback yet