Gobi Palak Matar
11:19 pm Food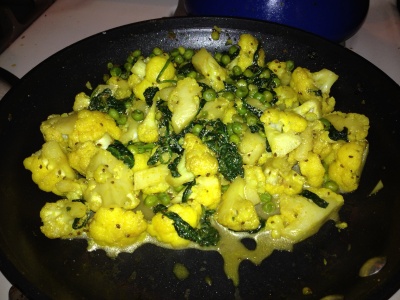 The challenge today was to cook some dishes that can be eaten while in the induction phase of the Atkins Diet. I know that spices are generally counted very low in carbohydrates so why not spice it up?
I picked out a few vegetables that are on the list for the induction phase including califlower (gobi), spinach (palak) and peas (matar). The spinach is very low in carbohydrate per serving (0.2), the cauliflower is also low (1.0) and the peas area lot higher (9.9). Anyway, I think the choices balance out for a nutritional dish that has a variety of tastes.
I decided that I like the flavor of ajwain with vegetables. It gives them a very savory flavor especially when combined with bhania (coriander). So I adapted another vegetables recipe that used these ingredients.
2 cups califlower cut into 1" pieces
2 cups fresh spinach leaves
1 cup frozen peas
2 tablespoons safflower oil
4 dried red chili peppers
1 Tablespoon bhania (coriander) powder
1 teaspoon ajwain (carom) seeds
1/2 teaspoon haldi (turmeric)
1 teaspoon salt
1 teaspoon lemon juice


Heat the oil on medium heat in a large fry pan, not too hot. Add the ajwain seeds and let them cook for a few seconds, don't burn them, they are very tiny so keep the heat medium. Add the dried chilies and the haldi and stir for a few more seconds. Add in the peas, cover for a minute and let them defrost. Add the coriander and salt and stir in. Now add the califlower pieces and then put the spinach on top. You can add a tablespoon of water if needed to get some steam going. Cover and let it simmer for a few minutes and the spinach will reduce down as the vegetables begin to cook. Stir every few minutes and cook until vegetables are tender. Add the lemon juice and stir and it's ready to serve.
I calculated 51 grams of carbohydrate in this dish total.
No feedback yet