Chicken Vindaloo - Slow Cooker
11:50 pm Food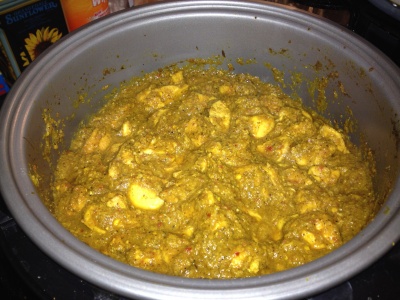 This is a great recipe for spicy chicken dish. There are a bunch of steps but it's really not that bad. Once you've made it once it goes faster the next time. I like it because you can get it going in the morning and you have a finished dish for supper.
Vindaloo is a spicy dish. You can dial back the chili pepper if you can't take the heat but be aware that there are lots of strong spices in the recipe. I like it hot of course!
4 lbs fresh boneless skinless chicken breast cut into 1" pieces
4 Tablespoons safflower oil
3 cups chopped yellow onions
6 Tablespoons white wine vinegar
1/2 cup shredded fresh ginger
20 cloves of fresh garlic
16 dried red chili peppers
 1 Tablespoon haldi (turmeric) powder
 1 Tablespoon bhania (coriander) powder
1 Tablespoon garam masala
1 teaspoon cinnamon powder
2 teaspoons red chili powder
1 Tablespoon black peppercorns
1 Tablespoon coarse sea salt
1 Tablespoon black mustard seed
Saute the onions in a large fry pan in two tablespoons of the oil until browned. Remove from heat and let them cool a bit. Put them in the food processor and puree into a runny paste. Put the onion paste in the slow cooker. No need to clean out the processor, okay if there are still some onions in there. Next, add the garlic, ginger, chilies, haldi, bhania, garam masala, chili powder and cinnamon to the food processor and process into a paste along with remaining 2 tablespoons of oil. Add this paste to the slow cooker and mix it in with the onion paste.
Use a mortar and pestle or grinder to grind the other whole spices (peppercorns, mustard seed, salt) into a coarse powder. Add to the slow cooker. Add the vinegar in. Add the 1" chicken pieces to the slow cooker and mix so everything is coated. Cook for about 6 hours, chicken will be tender.
1 comment
06/09/15 @ 11:36