Wahoo KICKR
9:42 pm Cycling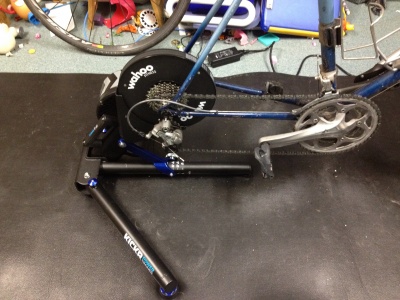 I was fortunate that I had a big expense reimbursement this month and also three paychecks in December so I gave myself a Christmas present early and bought a Wahoo KICKR. Performance had a $50 off coupon and had one in stock in their Delaware store so no state sales tax. I also got Performance Points of 10% so my net price was $945.
Now I wasn't completely dissatisfied with my previous setup, in fact I had purchased the Kurt Kinetic InRide power sensor and the pro flywheel recently. That combination really made my Kurt trainer work well with TrainerRoad instead of using their Virtual Power feature. The trouble is that when I'm training I really don't want to have to think about too much other than riding my bike. Having to watch (and match) the required power output by shifting gears all the time was somewhat of a pain although I did feel I was getting a good workout from the setup. Adding the KICKR meant that I could ride more naturally and worry less about controlling things.
There are lots of reviews out there on cycling trainers and I read way too many of them. But I wanted to end up with something really neat that overcame the problems I had with training indoors. Mostly I wanted to overcome the boredom of endless sweat soaked mindless spinning that I've come to identify indoor training with. Using a smart trainer along with software has let me overcome this and I can say that I actually look forward to my indoor workouts now.
The things I like about the KICKR are that it is built solid, you still ride your road bike but remove the rear wheel so no tire wear, it is both Bluetooth (4.0) and ANT+ and they have an open API so that software developers can integrate it into their products much more easily than some of the more proprietary systems.
You can read the full review of the KICKR on DC Rainmaker's blog if you're interested, he covers everything in excruciating detail. I'll merely add my comments to his and validate or expand on some of the things he mentions.
First of all, this thing is very heavy. I certainly wouldn't want to drop it on my foot or I won't be riding for a while. Since I have no intention of using this thing anywhere else but my home that works out fine. I'll keep my Kurt trainer in the car for race warmups of course. Having worked with mechanical devices for many years, I really appreciate the craftsmanship that went into the KICKR.
There is no part of it that seems cheap or underengineered. You can adjust it for bikes with different wheel sizes and the fold out legs have micro adjusting feet to keep the trainer from wobbling if the floor isn't perfectly flat. I also like that my bike sits right on the floor, no riser needed for the front wheel. So it's easy to get on and off.
The KICKR worked right out of the box with the Wahoo app on my iPhone 4S (the oldest Apple model that has Bluetooth 4). I used the phone app as a first step because you need that to do any firmware upgrades. Turned out there weren't any upgrades required but there were some newer beta releases (careful) out there which require a secret swipe pattern on the phone to access. I have one of the stable betas on there now but I don't think it's any different than the software that the KICKR shipped with.
Of course the real fun started when I paired the KICKR up with TrainerRoad. Running the TrainerRoad application on my Macbook Air with a Garmin ANT+ USB stick (I already had one from my Garmin Vivofit) worked perfectly. It discovered the trainer easily. I had to 'unpair' the previously used InRide sensor from the Kurt trainer so it wouldn't be used anymore.
Of course my heart rate sensor (Scosche) was already paired as was my Garmin cadence/speed sensor which now would be used for cadence data only since there is no rear wheel on the bike anymore; your speed data now comes from the KICKR which it can calculate easily since it knows the RPM of the flywheel and the circumference of a 700C wheel.
While we're on the subject of speed, some explaining is in order. TrainerRoad defaults to ERG mode for the KICKR. What that means is that the TrainerRoad software tells the KICKR how many watts are required and the KICKR then adjusts the resistance in order to generate that many watts. As you know, climbing is generally at a slower RPM expecially out of the saddle. So in order to generate a certain wattage the KICKR will raise the resistance. Conversely, if you are spinning really fast simulating flat or downhill terrain, less watts per pedal revolution are required so the KICKR lowers the resistance. It seems a bit weird at first when you are riding because with a traditional trainer the watts will go up and it will be progressively harder to pedal as cadence is increased.
But since the KICKR lowers the resistance as you increase cadence it actually begins to feel easier to pedal as you pick up the crank RPMs. With that action going on you can really just leave your bike in a medium gear and just try to spin the cadence that the workout requires and the KICKR will auto adjust. But think about this; if you are in a really low gear on the bike, the rear wheel is not turning that many revolutions per revolution of the cranks so measured speed of the bike is low. If you are in a high gear the RPM of the wheel is higher per RPM of the cranks so measured bike speed is higher.
Because of this, when the trainer is in ERG mode (the default) you can disregard the speed you are going completely as it is meaningless anyway. Instead, you focus on the RPMs that the training program is asking you to do and of course be prepared to deliver the power that is required. If you use a lower gear on the bike your speed will look ridiculously low when you upload to Strava or somwhere else but you have to remember that it's the average power you were generating that is what you should be looking at. If you look at some of my workouts on Strava you'll see what I mean. This point about speed only concerns training done while in ERG (ergonomic) mode.
So TrainerRoad works well with the KICKR and will automatically force you to produce the correct power. That's pretty cool. But the real fun from the trainer is competing right? I don't think comparing my results on TrainerRoad with someone else really tells me much about my fitness. Maybe comparing my efforts with previous efforts does but who wants to race against yourself all the time?
One nice thing about TrainerRoad is that there are workouts that sync with different training videos. That includes Sufferfest and a bunch of others. And if they don't have a workout for your particular video you can make your own. In fact you can play any video you want during your workout. I put on a video of last year's TDF during one session.
There are other online services that are centered around competition. So far I have tried two of them, BKOOL and VirtualTraining. BKOOL is the first one I tried. You can enroll monthly (I think it's $15 per month, cancel any time). They keep a repository of training route profiles some that have video and some that don't. They also have a 3D mode that looks cartoonish but let's you see the other riders (ghost or real) on the screen.
There must be thousands of routes on there and because it's based out of Spain there are great European classic climbs and race stages you can ride. The format is that there are ad-hoc races forming up every few minutes and you are welcome to join in one of those or create one yourself. Rides are classified by difficulty so you can choose what you want to do that day. While the BKOOL software works okay, their user interface is not intuitive at all. I still stumble around the software trying to get something simple done. But when it's running it works pretty well.
The one downside to BKOOL is the video. The quality of the videos is pretty good in most cases but they stream it to your computer and it always seems to hang. Maybe the servers are all over in Europe or something but I don't think I have ever done a session where the video streamed correctly. It usually starts out okay but at some point in the workout it starts failing. It will catch up (if it can) so you just keep on riding and hope that it fixes itself. BKOOL has a large base of participants and some really strong folks so the comptitive factor is very good.
BKOOL records your efforts and then you can download the .fit file and do what you want with it. Garmin Connect doesn't like the .fit files that come out of BKOOL so instead I import them into my Mac Rubitrack software and then export them as .tcx and they work fine on Garmin, Strava, etc. BKOOL supports several resistance based trainers and even non-resistance based ones. In fact you can ride without any sensors at all if you don't have any although I don't see the point in that.
The other online racing software I've tried is VirtualTraining from CycleOps. It is also a subscription based service. While they are certainly interested in selling you a CycleOps trainer they fully support the KICKR. The nice difference between BKOOL and VirtualTraining is that VirtualTraining lets you download the workout including the video before you start. That means that Internet lag is not a factor for the video which is really nice. A few of the videos I've used still jump and pause a little bit. The user interface is better on VirtualTraining. And it seems they are continuing to develop things as I have already downloaded an update and I've only been running it a few days so far.
With VirtualTraining there is less of a focus on live competition although it's still available in the form of scheduled races. There are leaderboards for the routes and you can schedule and join races but it's not like BKOOL where the racing is right in your face on the main interface. Also, I've noticed an issue with local time. Although VirtualTraining support says that the local time will automatically match your computer, that isn't working for me. It's always three hours off as if it was Pacific time. So I'm wondering what will happen if I say I want to join a race. Will it be three hours off like the times on my rides? I don't know and so I haven't done any live racing on there yet. Instead I've tried several training rides that are available many which include video of various qualities. It felt really weird when riding in South Africa on the wrong side of the road with cars passing you on the right!
Some differences to note are that TrainerRoad videos simply play and you ride along. The videos on the other services follow your riding so the faster you go the faster the video plays and the sooner you're done. TrainerRoad goes by training time instead of distance. Also, VirtualTraining won't run natively on the Mac, it requires Windows. I run Windows 8.1 via Bootcamp on my Mac Mini and I can also fire up the Bootcamp partition under VMWare Fusion which seems to work okay too as long as I remember to share the USB ANT+ stick to the virtual Windows machine.
If you use Windows you're probably in good shape as all three of these have a Windows based client that works pretty good. You'll need a USB ANT+ stick and/or a Bluetooth 4 transceiver depending on your sensors. Also, TrainerRoad running under windows with BT requires a specific Bluetooth dongle, you can't use the one built into your PC unfortunately. I think the ANT+ will use any of the major ones like Garmin or Suuntu. I bought my dongles online mostly from Amazon.
Yet to try is Zwift which I hear is pretty cool, more of a virtual environment but high quality graphics. I haven't gotten my Zwift invite yet but I know that the folks at Zwift are doing their best to scale up their application and get riders started. Anyway it looks like it may be a cold winter but at least I'll have some fun training indoors this year.
No feedback yet